Nonin Onxy Vantage Oximeter Blue 8340-001
Special Price
$199.00
Regular Price
$249.00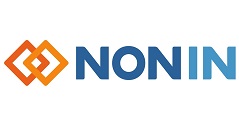 Manufactured by NONIN
Nonin Onxy Vantage Oximeter Blue 8340-001
When you need to make decisions quickly, you do not have time to question the accuracy of your finger pulse oximeter. You can trust Nonin Medical's Onyx® Vantage finger pulse oximeter with PureSAT® technology to quickly and accurately capture SpO2 and pulse rate measurements — even on patients where low perfusion is a challenge. In fact, Onyx is the only finger pulse oximeter brand whose accuracy and performance claims are supported by published peer-reviewed, clinical studies.
Accuracy matters, and Onyx Vantage provides accurate data for actionable decision making.
Proven Accuracy – Scientifically proven accuracy in the widest range of patients.
Reliable Results – Accurate readings on your challenging cases due to
low perfusion and darker skin tones. And, Onyx Vantage 9590 has been
tested in motion.
Versatile – One unit works on pediatric to larger adult patients and can be used
on fingers, thumbs or toes.
Cost Efficient – 4-year warranty and up to 6,000 spot checks on
two AAA batteries.
Specifications
Dimensions..................................................... 5.59 cm (2.2") L x 3.3 cm (1.3") W x 3.23 cm (1.27") H
Warranty......................................................... 4 years
Oxygen Saturation Display Range................ 0 – 100% SpO2
Pulse Rate Display Range.............................. 18 – 321 beats per minute (BPM)
Oxygen Saturation Declared Accuracy
Range (Arms*)............................................ 70 – 100% SpO2 ±2 digits
Low Perfusion Oxygen Saturation Declared
Accuracy Range (Arms*)............................ 70 – 100% SpO2 ±2 digits
Pulse Rate Declared Accuracy
Range (Arms*)............................................ 20 – 250 BPM ±3 digits
Low Perfusion Pulse Rate Declared Accuracy
Range (Arms*)............................................ 40 – 240 BPM ±3 digits
Measurement Wavelengths and Output Power**
Red ........................................................... 660 nanometers @ 0.8 mw maximum average
Infrared ..................................................... 910 nanometers @ 1.2 mw maximum average
Temperature
Operating .................................................. -5° to +40°C (+23° to +104°F)
Storage/Transportation .............................. -40° to +70°C (-40° to +158°F)
Humidity
Operating .................................................. 10 – 90% non-condensing
Storage/Transportation .............................. 10 – 95% non-condensing
Altitude
Operating .................................................. Up to 12,192 meters (40,000 feet)
Hyperbaric Pressure ................................... Up to 4 atmospheres
Battery Life
Operating................................................... Approximately 6,000 spot-checks or 36 hours of continuous operation using new AAA-size alkaline batteries
Storage...................................................... 12 months
4 Year Manufacturer's Warranty